Great value domains from only £6.99
Discount Domains is one of the UK's leading domain name registration providers for the co.uk and international top level domains
How do I change my Nameservers/DNS?
Changing nameservers is easy with Discount Domains, simply follow these steps:-
Step 1
Login to your account on www.discountdomainsuk.com.

Step 2
Select the Manage button next to the domain you need to change.
Step 3
Select nameserver

Step 4
Enter the new details and press update.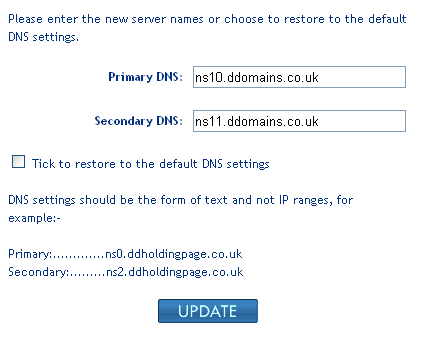 The settings change instantly on our system, but ISP take around 24-48 hours to pick up the change, so its normal for it to take this time for the new settings to be fully active around the internet.
Need Help? Contact Us
020 3475 2777