Google Analytics to improve your websites performance
Introduction
Google offers a great free product known as Google Analytics. Analytics code is added to every page of your website and the data it sends back to Google is used to produce graphs and historical data that you can use to understand and therefore improve the performance of your website. We are a leading UK Domain Registrar with our own in-house SEO team, which helps customers to get the most out of their websites.
What sort of data can I get from Google Analytics?
Here is an example screen shot.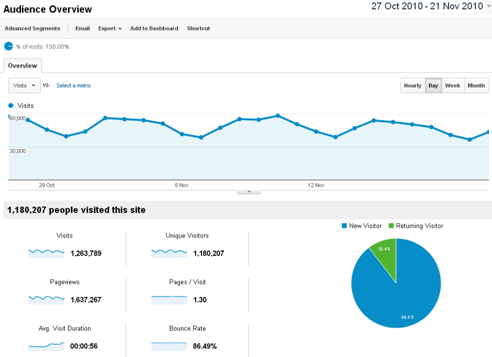 Visits, Unique vistors, pageviews, pages per visit and bounce rates.
Data included:-
Your can also drill into every page on your website and study individual page performance. Data is also available to answer a number of very useful questions such as:-
Screen resolution - What screen sizes do your customers view your site on?
Broswer version - Which browser is used, Chrome, Firefox or IE?
Device type - Are you mobile visitors growing? What % are they now?
Getting this sort of data is invaluable for your business, it allows you to ensure that you understand exactly who is visiting your site, and what device and screen resolution is being used. If you have this data you can use it to ensure that your users get the best possible experience from your website.
Google Panda
During 2011 Google introduced a filter designed to push down content that it consider to be shallow. It uses a series of metrics to determine if a page is valuable or shallow.
Using Analytics you can monitor the time on page and bounce rates of all your web pages and work on improving the ones that appear to have poor metrics.
If you find that some pages are not receiving any traffic than these should be either removed or improved. As pages with no traffic can count against your websites overall statistics.
Study - Improve - Study again
A great thing about Google Analytics is that it gives you the ability to really study your website and improve it, then monitor the results of your improvements.
Following the Google Panda update its now important to understand that your are been actively measured and compare to your competitors, you must continually improve your website in order to keep up and get ahead.
Summary
Google Analytics is a great free tool and can be used to make real actionable changes to your website, which will lead to improved traffic and user experience.
Adrian Lawrence is the author of this article and is one of the webmasters at Discount Domains https://plus.google.com/u/0/106088322856862782725/posts