What is Snapchat?
If you haven't been living under a rock for the past few years you will probably know what Snapchat is. Whether it is through your mates talking about it, seeing the posts on social media or just general word of mouth Snapchat is one of the most popular apps in both the Google Play store and the Apple app store at the moment, with over 100 million active monthly users as well as an ever-growing fan base.
Snapchat was first introduced in 2011 and has been growing exponentially ever since. Originally designed for just photos with drawings and text it now accommodates a few other needs such as creating a Snapchat story with several snaps as well as a text chat.
Getting started
In order to get with the programme and start snapping yourself this quick and easy guide should assist you in getting set up with Snapchat by following several easy to follow steps and instructions to get you sharing your snaps with mates as well as much more.
The first thing that you probably need to think about which some people may skip or fail to realise is whether or not your device is compatible with Snapchat. Most smart phones that have app stores and are relatively new will not have a problem with this, but if your phone is a few years old it is always worth checking. Also be sure that your device has enough disk space in order to hold this app. It is a very small file but once again there is no harm in checking.
Find and download Snapchat
Once you are completely positive that your device is 100% compatible with Snapchat it is time to find the app on your store. Simply find the search box for apps and search for "Snapchat" and it should be the first option that comes up. Make sure to double check first as you don't want an imitation programme that could infect your device with some sort of malware. The Snapchat symbol for the official app is shown below.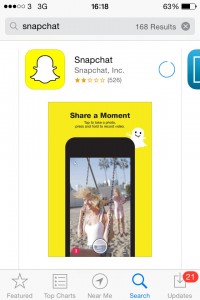 Creating an account
Ok, so now that you have downloaded Snapchat successfully you are ready to start setting up your account. If you are a starter with Snapchat the "login with existing account" option obviously won't apply to you and so press the "sign up" button in order to start the process of making an account.
Once you have done this you will be asked to fill in a few simple details: your email address, a password to create and your date of birth. All of these things are obviously easy enough to think of and should get you rolling.
Snapkidz
However, the relevance of the birthday is that Snapchat does not allow children under the age of 13 to use the app for child protection purposes. If you are under 13 you will be directed to a different version of the app at this juncture. Snapkidz allows you to use all the functions of the app besides sending the images that you create, so that you can have fun with yourself and friends without sending out the snaps.
For regular users who are not under age 13 you will now start the verification process which has a couple of levels to it to ensure that you are human so that you can verify your account properly as with most social media platforms these days.
Sharing your mobile number
The first thing that Snapchat asks of you is to be able to have access to your mobile number. This is of course purely for the use of Snapchat and is not something that is publically displayed for other customers, it is just something that is needed to allow the app to send and receive these photos to your profile. There is no negative connotation with sharing this number.
Account Verification
After you have passed your number over Snapchat will send you a code to properly verify your account, which you can enter into the field that is allocated for this code to continue with the process and reach the second level of verification, which is usually a question based on images, such as finding different sized Snapchat icons in photos. This is once again to stop some sort of bot from creating an account to make sure that you are 100% human.
Finding/adding friends
Your account should now be fully accounted for and verified, which means that you can start adding your friends who may also have the app. Unlike other social media programmes such as Facebook which will try and search for contacts based on your area or people that are friends of your contacts Snapchat bases initially finding friends off mobile numbers from your contacts on your phone. This isn't necessary but most people prefer to just do this as it gets a lot of initial contacts that you know already.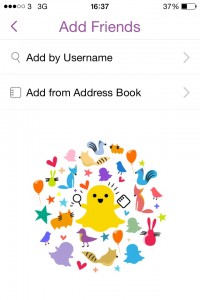 Once you have added this initial stream of people you should look to find other friends who you may not have in your phone contacts but may speak to through other means such as people from other countries who use Skype/Facebook and other social media streams.
It could also be that somebody you know from school does not give out their mobile number to everybody but is still more than happy to Snapchat with you, and so this is effectively rounding up the friends that you cannot add directly or are not in call/texting contact with on a regular basis. It may be that you are very good friends with these people and this is why this function exists, as it is unlikely that you will have every contact number of all of the people that you know who use Snapchat.
You can also see other people who have added you under the add friends, as they are separately classified as people who have done it the other way around and added you. Essentially new Snapchat users can find you as equally as you can find then and so your friend circle can continuously grow.
Your preferred settings.
Once you have established that you have added all of the people that you want to snap with and are satisfied with the results, you can look to edit your preferences before fully using the app in order to get the most out of it and use it to your fullest advantage and potential.
There is no reason to skip this stage or not see it as relevant as these settings are something that you are going to be living with and using every single day henceforth, and so you want to get this right at this juncture to optimise your experience.
In order to adjust these settings you need simply touch the red square on the bottom right corner of the app when it first appears. This should bring you to your friends screen, and there is a gear icon which signifies settings so that you can adjust your preferences accordingly to suit your own individual needs.
In these settings you can change your "additional services" which alter the functions that aren't directly linked to the snapping and doodling. By pressing on "manage" you can easily and efficiently change certain settings to make your snapping more personalised. Additionally, some features of Snapchat require knowing your location, and so turning on filters allows Snapchat to find your location.
You can even replay a snap once every 24 hours if this setting is active, but you can only replay one snap in this time period so it is recommended that you choose wisely and only replay a really great snap.
Starting Snapping
Now that you feel that all of the settings that you have chosen are optimised and 100% correct for your current situation you can start snapping with the new friends that you have added and start enjoying the primary function of the app. Whether it be shameless selfies, a picture of a night out or a doodle of a pirate hat with the drawing function you are all ready to go.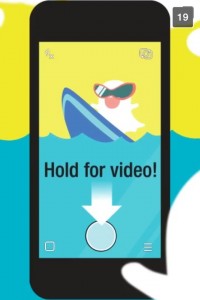 There are a few layers to a snap that can be added or altered in order to give it a personal touch and feel, the first of these being the very obvious taking of the initial photo. Some snaps will stop at this stage if you are just looking for a quick photo to send to a friend. The camera button is in the central part of your lower screen, and is a clear white circle. Once pressed it will take a picture that will then be available for either editing or just sending.
You can also hold this button to take a video if you want to, as in some cases a picture tells everything but a video also relays a solid message. There should also be a flash setting for both of these and the ability to use a rear or front camera if your phone has both.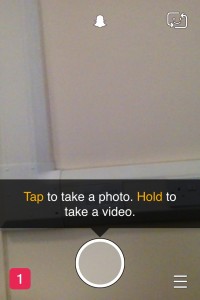 Editing your Snap
Once you have taken your picture and are happy with how it looks, it is time to add a couple of little extras if you want to. The two primary extras that you can add to a snap are a caption and drawings.
You can press anywhere on your snap and a little text box should appear so that you can add a caption. This could be something about where you are, what the picture is about or a message you want to convey to the person in question. In any case you are just captioning the moment that you have created.
This can then be added to by the draw feature that is available when using Snapchat. You have several different colours to choose from and can doodle and draw images with a crayon-like feature to your hearts content. This is especially popular with Snapkidz or for those that have the time on their hands to be a bit creative.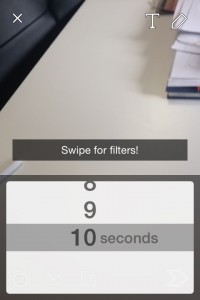 Another editable feature is the time limit in which the user gets to view an image. This can be up to 10 seconds, and so you get to decide whether to give them a sneak preview to grab their attention and have them asking for more or to allow someone to truly appreciate a moment for the full 10 seconds. There is a stopwatch icon on the lower left of a snap to change this limit.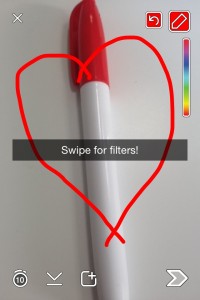 Saving and sending your snap
Before sending your snap off to whomever you may want it to go to you will probably want to archive the image for future reference if necessary. This must be done before sending and requires certain permissions in your settings, and so click the down arrow near the bottom of the app to keep the image.
Once you have decided whether or not to save the snap you have taken it is time for the big one: sending it. A snap is simple enough to send and you pretty much click the arrow pointing to the right to get started.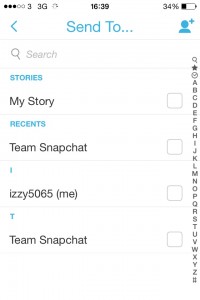 After this you will need to choose who you want to send the snap to, as some more private snaps may want to be sent to a spouse or family member whereas more funny and globally relevant snaps can be sent out to everybody. You can tap to tick the appropriate recipients and then simply click send via the right pointing arrow again.
Knowing when your snaps have been viewed/deleted
You may not have your snap viewed via this app for quite some time depending on whether the recipients have opened their phones or not. It is for this reason each snap to each friend will either have an empty box or a filled in box to denote received or not received. Once all of your boxes have been filled in then all of your friends will have received your snap.
For those wondering how and why you can only view a snap once or twice it is because once everyone has received your snap and seen it the image automatically gets deleted from the Snapchat servers, and by extension this affects your device too. When the snap disappears from your phone you will know that everybody who you sent it to has seen it.
Incoming Snapchat photos
The gate swings both ways in this situation and you can obviously view snaps that other people send you as well as those that you send to them. To get to this page open Snapchat and click the square icon at the bottom left of your screen. This will take you to the snaps that you haven't viewed yet.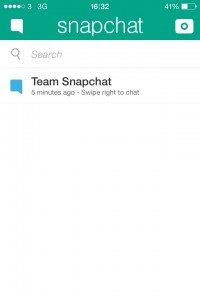 As with the snaps that you send there is an empty and filled box system to denote which snaps have been viewed. However, this time a full box means that you can still view this snap whereas an empty one means that the snap has already been seen and is set for deletion as and when is necessary.
In order to look at a new snap you can press and hold your finger on the screen over the snap that you want to see. Past this point a timer starts (the set timer for viewing time) and you need to keep your finger pressed in order to see the snap for the full duration. You can replay one of these images once but after this time they will be deleted.
Snapchat Stories
Stories is a relatively new feature added by Snapchat, and involves a lot of snap pictures and videos. Snapchat Stories is a great way to communicate with your friends. Stories allow you to add as many short videos and pictures as you want and collaborate them into one big story over time. This can be viewed by your friends multiple times in a day and appears on your profile feed to everybody else.
In order to start a story you can take a regular snap and add it to your daily story. You can do this as many times as you want by taking new snaps and always selecting the "add to story" icon on the bottom of your screen if you have already created an existing story or are starting a new one.
These stories are really nice to have if you are perhaps in a long distance relationship or don't get to see a friend that often and want to see how their day is going. It is an alternative to sending several snaps over and over again and so is a timesaver as well as letting people see the images as much as they want.
Viewing other peoples stories and finding out about their day is just as important as you being concerned with making yours, and so in order to see your contacts' stories you can go to the friends page and search for your friend or yourself and tap on the story you want to see. You can even check out your own if you do this.
The Live Chat Function
Another one of the newer features associated with Snapchat is the chat option, so that you can conversations with friends as well as sorting through and sending each other snaps. This is a big time saver if you don't want to caption everything and so be sure to check it out as you can also send pictures, videos and messages through here.
This feature works in the same way that most standard messengers do by going to your Snapchat inbox and swiping on a friend's name, putting in your message or attachment and then clicking the send button for that conversation.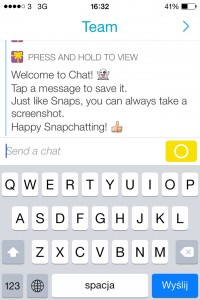 Video chat is also now possible with Snapchat and you can enjoy the perk of being able to have a video call with a friend. You will have to keep your finger held down on the camera button as well as your friend but it is completely possible and lets you have a little conversation about your day or whatever you are planning on doing.
The Snapchat scoring system
For those that are extremely regular snappers (both sending and receiving) your Snapchat score is a great way of indicating the use you get out of this app. It shows you how many snaps you have sent and received from all of your contacts. Obviously having a high ratio of send to receive is a good thing because it lets you know how much you use the app, but receiving snaps is just as good. You can compare this score to friends if you want to aswell.
Ready to go
You should now know everything there is to know about Snapchat, so get on board with all your mates and start enjoying the Snapchat experience today!