We had a full on day yesterday at the ICANN's Fiftteeth anniverary conference. London ICANN50,   We've been to a number around the world and they are always great for meeting senior people from the Domain Industy.  Its the first time ever in London which is a surprise given the importance of the UK for the internet.
Anyway it was great to meet in person staff from Verisign, Ironmountain, Logicboxes and others, many of whom I've spoken to for many years but never met in person.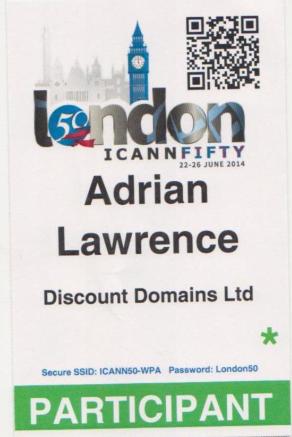 Here's my badge to prove, that I don't just make this stuff up!
Also as the industry is expanding so dramatically at the moment with all the new TLD types being launched, it was great to be introduced to the likes of Minds and Machines.
If you get a chance I can thoroughly recommend some of the seminars, and group meetings.  These are held in public and there is the opportunity to feed your own comments in.   A nice thing about these meetings is the free food and drink, on a hot day, its nice to get something back for all the $1,000's we spend with them!
The sports bar is a great place in London to hang out, I bumped into Snapnames there and had a good chat.  Logicboxes invited us to a Bollywood night, but I had to travel back so shame not to see / experience that – but nice to have the invite at least!
ICANN Fifty is being held at the London Hilton Hotel on Edgware Road.